Rat cap system
Rat cap design for silicon probe implantation. The fully assembled cap weighs 9.39g.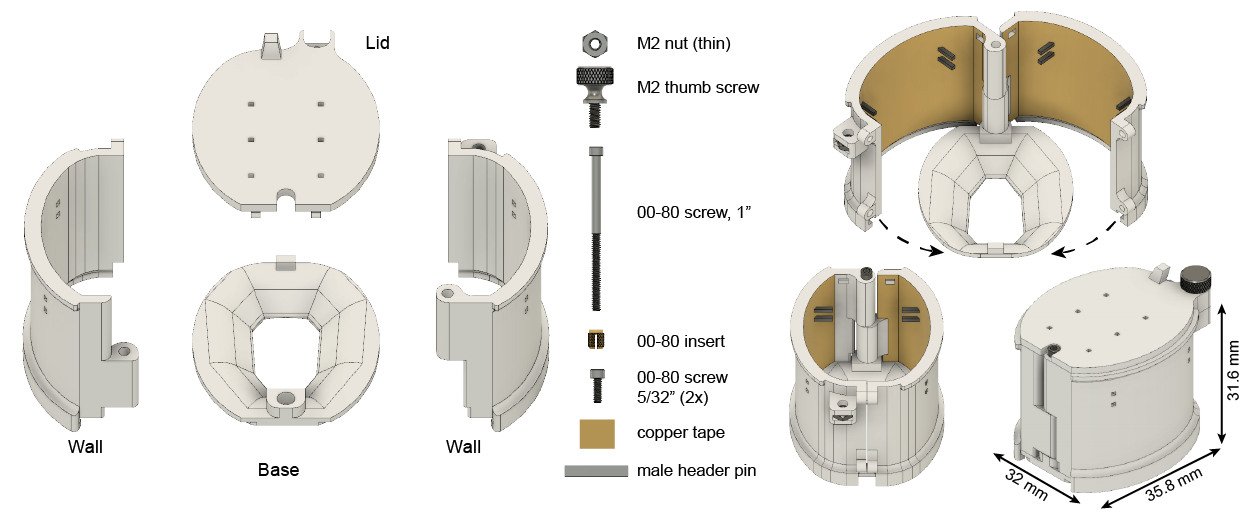 Table of contents
Printing and assembly instructions
Download stl files from our GitHub repository. The .stl files are optimized for Formlabs Form2 printer and Grey-v4/Clear-v4 Resin. For other printers and/or resins, some modifications may be necessary.
See video below. Detailed assembly instructions are available for the cap system.
The assembly video is also available on youtube.
Materials
Rat cap v08
Optional lid (to close cap for extended period of time)
Additional tools
| Qty | Name | Vendor | Item number/Link |
| --- | --- | --- | --- |
| 1 | 00-80 tap | McMaster | 2523A461 |
| 1 | 0.05" hex key |   |   |
Stl files
All stl files are available for download from our GitHub repository.
Rat cap base
Left wall
Right wall
Lid
Citations
If you use our designs, please cite our paper: Metal microdrive and head cap system for silicon probe recovery in freely moving rodent Mihály Vöröslakos, Peter C. Petersen, Balázs Vöröslakos, György Buzsáki doi: doi.org/10.1101/2020.12.20.423655
The designs are distributed under GNU GPLv3 license.
---